History of Air-Beam and Roto-Beam Corporation, Chicago, Illinois - 1933 to 1953
Before air conditioning came along as we know it today, people relied on electric fans, the swimming hole, shade and ice to keep cool in the hotter summer months. A fan marketer was looking out on the street below during one of these hot summer days, watching people crisscrossing the street and going from store to store. He first figured it just happened to be a particularly lucrative month, but upon interviewing store owners and managers, he learned that the majority of people entering their businesses came in to get out of the sun and to cool off under the electric fans in the stores, not to buy goods. Also around this time, there were many bars and taverns, where there was a need to not only cool the establishment, but to also help circulate and remove cigar and cigarette smoke. Besides a cold beer or shot, there were vending machines designed to keep people in these road houses buying drinks and food, such as cigarette and candy vending machines, jukeboxes for music and pinball machines, to name a few. The jobbers leasing these devices were also in most cases fan salesmen, with sales and service routes ready to exploit. Many other designers and marketers saw the need in the ventilation market for a more powerful fan that would circulate the air around their respective establishments, bringing in customers and hopefully profits. Designer Max Weber was one of them.
In 1932, Chicago-based inventor Max Weber applies for patents all centering on a one pieced five-winged blade design. Applications for this blade design range from a simple circulator fan impeller blade, to similar designs applied to radiator fans cooling vehicle engines and even aircraft propellers. Weber, at that time in history, sees there is a hungry future market for circulation and ventilation fans, and creates a distribution network in 1933, selling five-winged Roto-Beam circulators and four-winged circulators under the Air-Beam label owned by Weber. Air-Beam Circulator Corporation, of Chicago, makes it's debut, branching out and having offices in major cities across North America, the purpose being to handle sales and distribution for the budding Weber enterprise.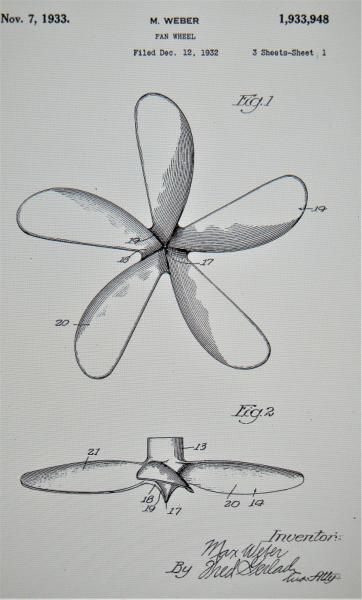 Marketing begins for Roto-Beam circulators in 1934, as Weber's U.S. patents begin to issue, assembled by Motor Service and Manufacturing Co., 3300 Indiana Avenue, Chicago, Illinois. These early production circulators are finished in ivory and gloss black pinstriped enameled cast iron bases, having cast aluminum trim. The pedestals are aluminum-sheathed black iron pipe, non-telescoping, with a Roto-Beam data plate, observed to be riveted onto pedestals and more of a foil decal on shorter pedestal counter models. The motors bear the data-plate of Motor Service and Manufacturing Co. The five wing-blade is made of polished cast aluminum, having the Roto-Beam script logo stamped into the back side of the blade, and available in sizes from 8-inch to 24-inches diameter. The cage has two varieties for the larger, non-adjustable pedestal Roto-Beam circulators. The initial production examples have a polished, circular cage featuring nesting V-shaped wires, decreasing in size from the top of the cage on down. The second variety of cage is more industrial, consisting of concentric rings, and finished in polished cadmium plating. Intake and exhaust fans are also being marketed and sold at this time, as well as a residential sized set of pedestals, having ivory enameled bases trimmed in black pin-striping, chromed telescopically adjustable pedestals with a motor manufactured by Century Electric but labeled on the data-plate as a Motor Service and Manufacturing Co. product. There is an eight-inch version with a step-activated "mushroom" switch mounted on the stacked concentric base, referred to in the catalog as the "Junior" model, and a twelve inch version, having a chrome housing and black porcelain turn knob, three speed switch, also mounted in a recess for it in the base. The blades are cast-aluminum five winged blades, surrounded by a polished cadmium-plated cage having a lightning-bolt pattern. Regarding the residential fan bases, there are two, identical "shot-glass" ornaments stacked at the bottom where the pedestal meets the cast iron base.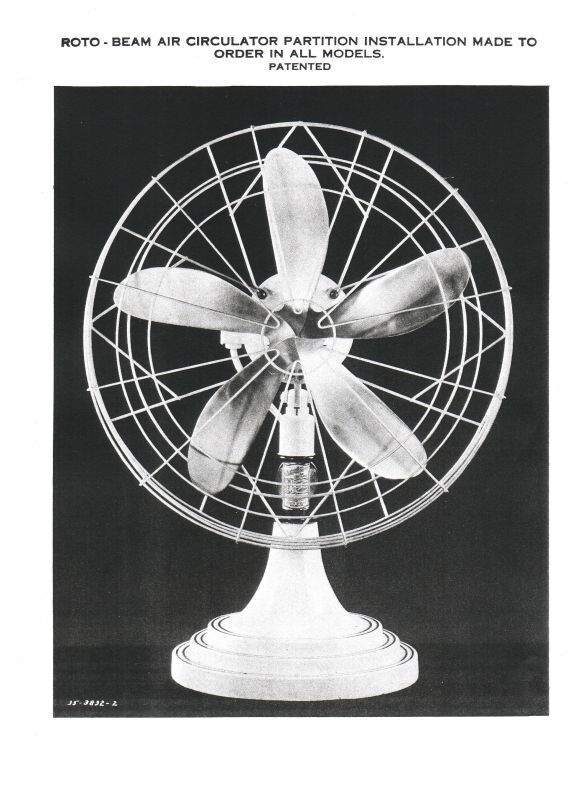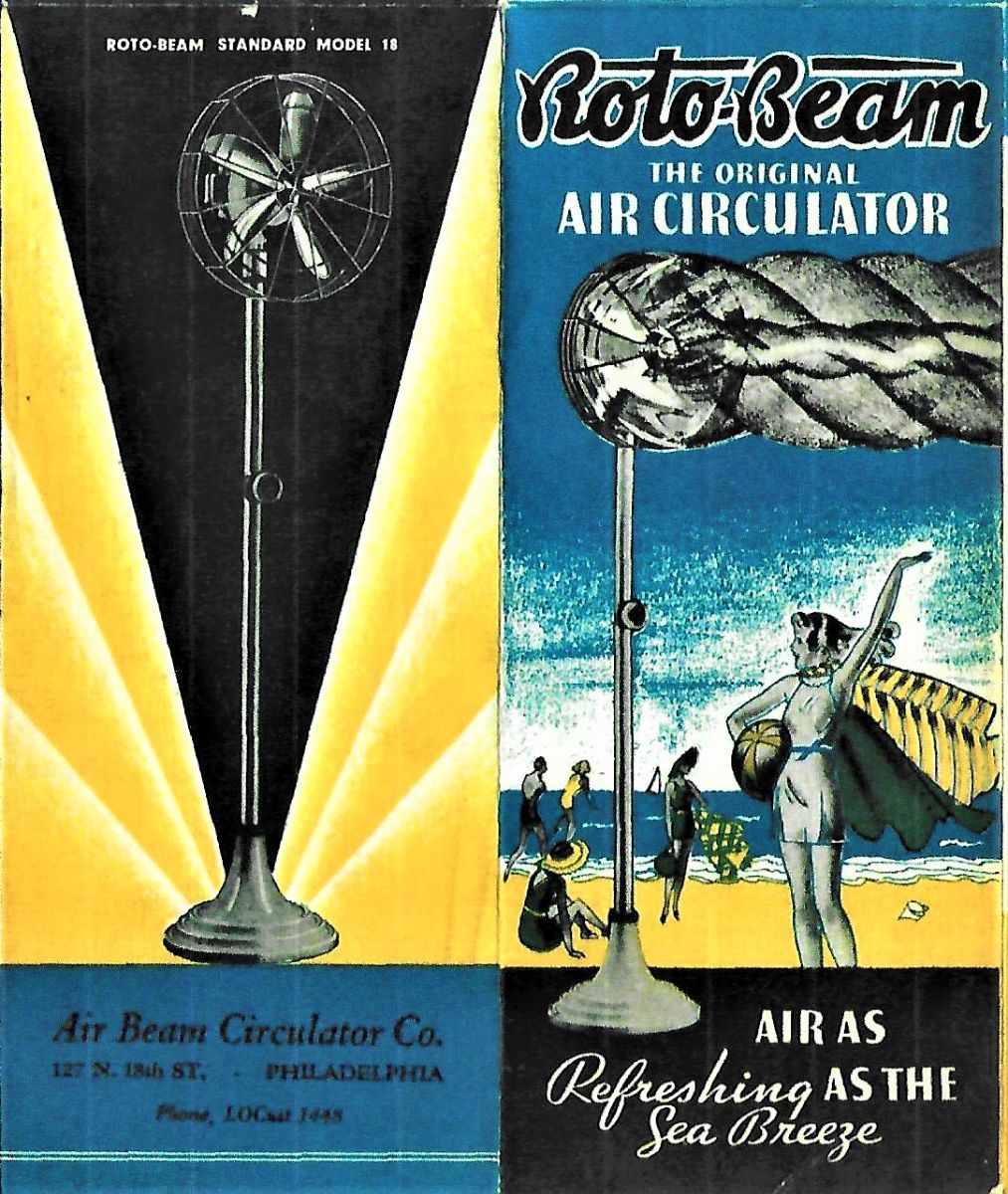 Manufacturing Co, as well as officially incorporating Air-Beam Circulator, Inc. The product line-up is largely the same, but it appears the 8-inch "Junior" pedestal has been eliminated, although the 12 inch residential is still being marketed, having this year a "watered-silk" texture silver paint, no pinstripe embellishments and a single "shot-glass" base ornament. The cage is no longer in the previous "lightning-bolt" pattern, but the nesting V-shaped wires styled in the previous years pedestal model, styled as decreasing in size from the top of the cage on down.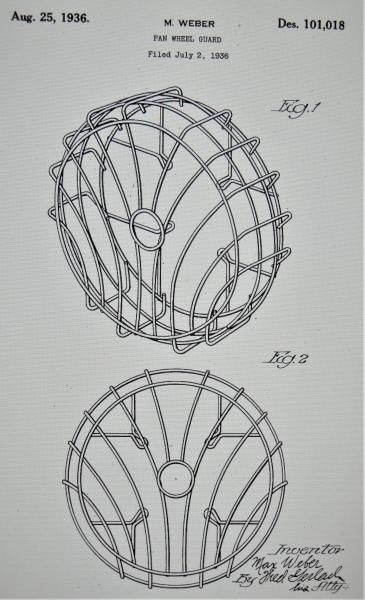 It has been observed that 1936 was likely the last year the residential 12-inch was marketed. Examples observed of the type three Roto-Beam residential pedestal have "watered-silk" texture silver paint, no "shot-glass" base ornaments, and the motor, cage, blade same as the type two Roto-Beam pedestal. Deluxe chrome "flying-saucer" shaped base and yoke mounted desk circulators are marketed, having a deco "star-pattern" design, comprising of polished chrome having front and rear halves enclosing the cast-aluminum blade the halves being designed to be easily removed for blade cleaning and motor service. The chrome enclosed motor housing is supported by a either dark brown or gloss black enameled strap metal yoke, and secured by black, hard-rubber threaded adjustment knobs. The Roto-Beam varieties of these circulators come in several sizes, from 10 to 16, labeled as Roto-Beam products, and having the Roto-Beam proprietary five-winged, cast aluminum blade design. The Air-Beam Circulator, Inc. versions are somewhat identical, with the obvious differences of Air-Beam rather than Roto-Beam labeling and marking on the cast-aluminum four-winged blade reverse. The blade is unique also in that the center blade hub has a black "Hershey's Kiss" shaped black resin cast inserted, which is often missing.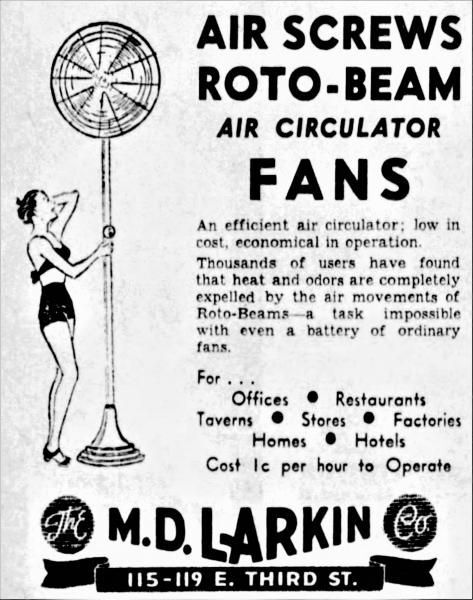 1936 - Type 2 Roto-Beam residential pedestal, "watered-silk" texture silver paint, one "shot-glass" base ornaments and towards the end of 1936 to early 1937, the type 3 Roto-Beam residential pedestal, "watered-silk" texture silver paint, no "shot-glass" base ornaments, motor, cage, blade same as type one and two. As a side note, ozone generators were made for Roto-Beam circulators specifically by the Electro-Air Corporation of Chicago, Illinois 1937 Ten-inch cast aluminum based fans having polished chrome cages and cast aluminum bases and blades are marketed and labeled Ideal Commutator Dresser Company, Sycamore, Illinois (as a decal). Also the same year, the "Six Volt Roto-Beam Cyclone Midget", marketed as a steering column mounted automobile ventilation fan, plugged into the cigarette lighter. Another variant label Roto-Beam six volt accessory fan made by Roto-Beam and marketed by Ero Manufacturing, a prolific seller of automobile accessories.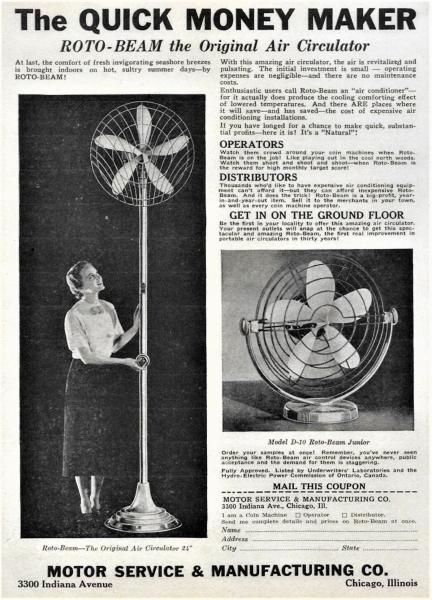 1938 - Ten-inch cast aluminum based desk fans having polished chrome cages and cast aluminum bases and blades and ROTO-BEAM Motor Service & Mfg. Co.as a metal, riveted data plate, other than the data-plate, identical to the 1937 model.
Max Weber is divorced from Mrs. Dorothy Weber, his wife of two weeks who files for divorce citing "cruelty". It all has to do with his drinking as a result of chronic alcoholism, a condition he would fight his whole adult life. 1938 seems to be a transitional design year for Roto-Beam, larger circulators are redesigned, using motors no longer made by Century as in past years, but by Ohio Electric. Air-Beam is still being discretely marketed.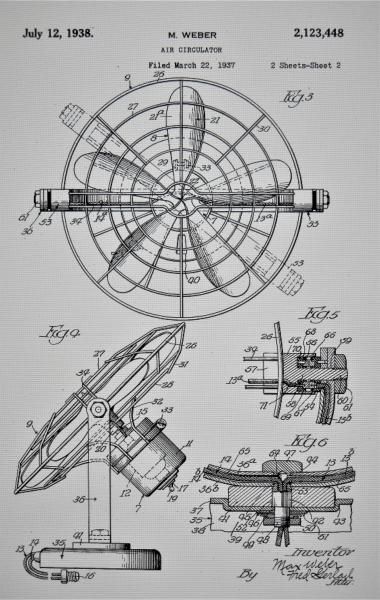 1939 - Roto-Beam markets a whole new line-up for practically every ventilation purpose, from ceiling suspended versions to 36 inch industrial "man-coolers", as well as window mounted circulators that folded away or to the open household window, desk, pedestal circulators from household to industrial needs. The circulators are a combination maroon and chrome finish, having a unique to this year maroon enameled cast-iron base with a chromed pedestal. The corporate office is still at 3300 Indiana Avenue, Chicago. To finance the newest enterprise, $100,000.00 worth of stock in the company is sold by the Corporation Trust Company, May 17, 1939, now doing business as The Roto-Beam Corporation of America, now incorporated in the state of Delaware, no doubt for tax purposes.
1940 - Fairbanks-Morse, famous for industrial scales, markets Roto-Beam circulators in 1940, identical otherwise to the Roto-Beam product, but having a Fairbanks-Morse branded tag where the Roto-Beam tag would be mounted to the base. The desk circulators as of this year begin to no longer have cast-aluminum, but rather painted stamp steel bases. The pedestal circulators now have a gloss black porcelainized cast-iron base with the chromed Roto-Beam base bolted to it, similar in mounting fashion to rival manufacturer Fresh'ND-Aire.
1941 - Roto-Beam becomes a division of Peerless of America, Incorporated, no relation to the Peerless fan manufacturer of Warren, Ohio. Roto-Beam examples of this period have been observed having Roto-Beam, Peerless, and Roto-Beam Peerless riveted tags and data-plates.The cages have a five pointed, polished chrome finish, the circulators having General Electric motors enclosed from the rear with a chrome finished bullet-shaped housing. A multi-speed ten-inch heating and air-conditioning duct booster fan is marketed as the Roto-Heat-Beam, distinctive in it's all maroon painted finish with the blade being bright aluminum, and triangular mounting bracket, upon which is a decal type data and model plate.
During the war years between 1941 to 1945, Weber applies for and is granted utility and design patents for Roto-Beam residential box fans, which as of this writing, have yet to surface. But by post-war 1946, however, there are changes yet again made at Roto-Beam Corporation. In 1946 - "Postwar, Roto-Beam is shifted yet again and becomes a division of Climax Engineering Co. of Clinton, Iowa, Electrical Construction & Maintenance - Volume 47 - Page 270", and further "Max Weber, designer and patent- holder of the Roto-Beam air radiant circulators, has announced that he will personally direct the manufacture and distribution of this line in the future. Mr. Weber takes over from Climax Industries, Inc., Clinton, Iowa, former licensee under Mr. Weber's patents. The new address of Roto-Beam is 17SS-S7 N. Keeler Ave., Chicago, 111. Climax Engineering Company, Clinton, Iowa, acquires all manufacturing and selling rights to the "Roto Beam" radiant air circulators from the Roto Beam Company, Chicago".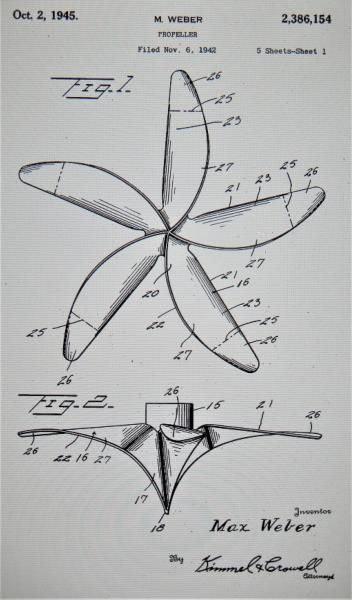 The following history of the Climax Engineering Co. is based on information from a variety of sources. Based on these sources, the company was founded in 1900 by James Dwight Lamb, as the Lamb Boat & Engine Company. By 1905 the company was building 2 and 4 cycle engines from 1.5 to 60 HP. In 1916 a fellow named George Dulaney re-organized the company as the Climax Engineering Company and was Chairman of the Board from 1920-38. By 1929 the company was being run by offices in Chicago. The records indicate that in 1933 Climax and the Chrysler Corp. were jointly building gas engines. In 1942 the General Finance Co. of Chicago took over the company. Liberty Products Mfg. Co. of Liberty, MO ran the company for a short time. During WWII the company also manufactured military grade hydraulic pumps. After the war, Climax also manufactured Max Weber's Roto-Beam air circulators. The Climax Engineering Roto-Beam line-up are much different than previous model year constructions. As for the desk circulators, observed to have been made in sizes 8 to 16 inches, the bases are cast-iron and black or extremely dark brown enameled, as is the combined motor and cage support yoke. Within the cage and supported by the yoke is an oval motor support of cast-aluminum, upon which is a data-plate riveted to it.The cages are polished chrome, the blades remaining to be polished aluminum. There is also known to exist according to period advertising both a desk and pedestal circulators, having a uniquely constructed square "birdcage" type of blade and motor enclosure. Sadly, these examples also have yet to surface as of the date of this writing. 1947 is another year for the seemingly constantly transitioning Roto-Beam company. Old stock is still assembled and marketed using chromed bases, pedestals, motor enclosures and cages. Leftover warehouse finds of old model Air-Beams are also sold, as Roto-Beam construction will change with a radical departure from past designs. 1948 - The motor cover housing for the Roto-Beam and the base of the table model are molded of the same high-impact Durez material as the propeller. The yoke is stamped metal, the cage is polished cadmium. Durez Plastics (originally named General Plastics) was established in 1921 by Harry M. Dent in North Tonawanda, New York. Durez was a chemical and plastics factory that manufactured plastic molding compound, which it then sold to other manufacturing facilities. These facilities used the plastic molding compound supplied by Durez to make a wide variety of products that included hard plastic handles for irons and other small appliances, as well as a variety of automotive parts. During its peak production years, Durez was one of the world's largest manufacturers of phenolic resin and molding compounds. The construction is durable, and the lighter weight means smaller motors. 1949 to 1952 - The "birdcage" Roto-Beam pedestals, marketed 1946, finally receive their utility patent from the United States Patent Office, having filed for a patent in 1944. It is believed that the war caused a delay in intellectual property protection and patent processing. Production and marketing continues with the Durez Roto-Beams to the end of production in 1953. Possibly as a means of using up remaining pars, a firm named Coleman Marine & Hardware, of Foley, Alabama marketed a Durez Roto-Beam 32-volt anomaly, made for use on boats. 1953 is the final year of Roto-Beam. Durez 8 to 16-inch desk circulators, residential ten-inch pedestals, and commercial-quality "Radiant Air-Wave" circulators are sold until stock sells out. The commercial circulators have cadmium plated OSHA styled cages which support the motor and cast-aluminum blade inside. The bases are cast-iron, and observed examples show factory silver and black-wrinkled finishes.