History of the Airmaster Corporation 1935 - 1937 Models

1928 - A young man and inventor, Herman C. Hueglin worked as secretary for the Federal Merchandise Company in the Marquette Building, 140 South Dearborn Street, previously working at Commonwealth Edison Co. while working at Commonwealth Edison, Hueglin meets a very powerful and rich man, Mr. William A. Fox, and scores a job as the executive secretary to Fox's firm, the Federal Merchandise Company, of which he is the president and director. Hueglin files for patents for a window fan design, and Fox is intrigued enough to invest in Hueglin, as the company inventor/developer and with Fox as chief investor and president. Hueglin applies for his first patents, but is listed as an employee of Federal Merchandise Company. While Hueglin is the inventor, his boss at Federal Merchandise Company, William A. Fox, who bankrolled manufacturing and marketing of Hueglin's window fans through Federal Merchandise Company or through Fox's connections to his former workplace, Consolidated Edison.
Photo of the Federal Merchandise Company Building circa 1920's
By 1929, Hueglin creates Airmaster Corporation, however, he is still beholden to his investors and Federal Merchandise Company, until 1935. 1935 is a great year for Herman Hueglin; The president of Airmaster Corporation William A. Fox retires, allowing Hueglin to finally be in charge of his own company. It is the last year he will be an assignor to Federal Merchandise Company. This is the year the first Airmaster pedestal circulator makes it's debut. It is readily distinguished by it's chromed pedestal and gloss black enameled, three-stepped and three legged base. There is an oval manufacturer plate on the side of this base, centered between to of it's three legs, and another, almost coin-like makers tag inserted in the center of the polished aluminum, three winged blade. All of the Hueglin designed Airmasters have Diehl Mfg. Co. motors exclusively. The motor is manufactured by Diehl, but labeled Airmaster, and is available as a two or single speed model. The circulators can be bought as a ceiling suspended version, a counter model, and a pedestal model. Diehl-badged Airmaster fans and circulators were manufactured for Diehl to market under their label, and have been observed with four-bladed, cast-aluminum Leinweber blades, otherwise appearing identical to the Airmaster products.
In 1936, Hueglin's second circulator design, the curved three legged base, and also his own design owned lock, stock and barrel not by Federal Merchandise Co., but his own Airmaster Corporation. It differs further from the 1935 stepped base model in that the base and pedestal are coated with a fine "Crackle-Black" wrinkle finish, the pedestal having a minor embellishment of three silver painted rings near the top of the pedestal from the base, a chromed telescoping motor support pole and a different cage design, cast-aluminum, three wing blades are available in 20, 24 and 30 inch sizes. The threaded pedestal base very conveniently unscrews for shipping. The previous "step-base" model bases were not designed for disassembly, as the tube pedestal was pressed over the base, not meant to be removed. The circulators can be bought as a ceiling suspended version, a counter model, and a pedestal model. 1935 and 1936 are the last of the three-legged base designs.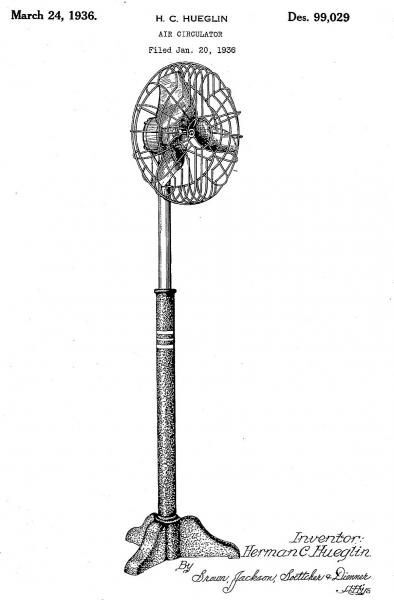 1937 is a transitional year for Airmaster Corporation. Herman Hueglin has a new circulator design this year, similar in style and finish with the previous years models, but having a more conventional circular cast-iron base, tapering downward to the base edges from the base peak, featuring four raised ornamental "waterfall" ribs, and coated in a durable black wrinkle finish, the pedestal and it's telescoping motor support pole being lavishly chrome plated. 20, 24 and 30 inch blade sizes may be ordered, as well as two or single speed motors. A cage badge debuts in late 1937. This style would continue to be manufactured until 1939.