History of Air-Castle, Country-Aire, Pure-Breez, All-American, Electro-King and Fleetwind 1941 to 1948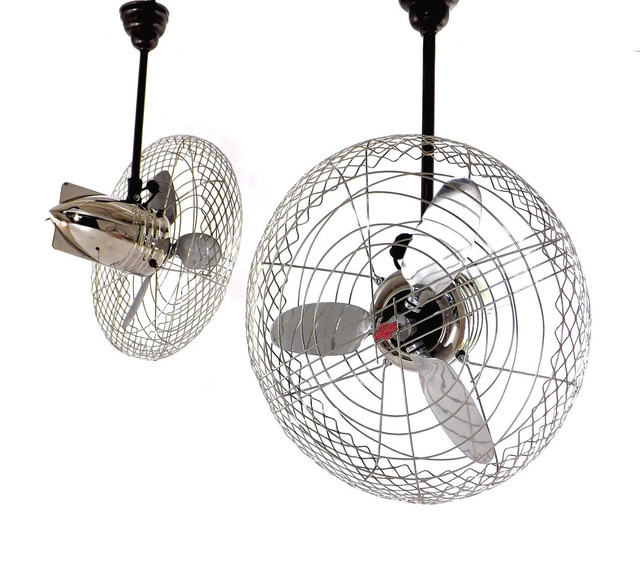 The Air-Castle brand of fans and circulators we as collectors enjoy is a bit mysterious. They did not have a trademark registration. They did not hold any utility patents. They did not hold any design patents. I've never seen a brochure, a catalog or even a flyer, with the obvious exception of newspaper advertisements. Their "company" locations are rented offices in office buildings. There is one known location where they assembled sub-contractor produced components: The fourth floor, 2645 South Wabash Avenue, Chicago Illinois. Motors used in production order were: General Electric, Lectro-Max, Universal Electric and finally Redmond. The initially named Air-Castle, associated with sales through Sears and Roebuck department stores, in short order became Country-Aire, Pure-Breez, All-American, Electro-King and finally Fleetwind. The company folded completely in 1948 officially.
The first year of production was 1941, sold seemingly exclusive through the Sears and Roebuck department stores, and marketed as "Air-Castle, Incorporated, Chicago, Illinois", having General Electric 1/20 HP motors and both two or three speeds, a chromed motor housing supported by a chrome pole and base, having a cast-iron support ring. The blades were two-winged "Dynamically-Balanced" cast-aluminum, surrounded by a chromed wire and mesh steel cage, having a cage badge centered on the cage front reading "Powerful, Quiet Air Castle, Incorporated, Chicago, Illinois" in raised chrome script having a background of red enamel paint. These deluxe circulators came in 16 and 20-inch blades lengths. More industrial versions came in the same blade sizes, with plainer cages, and were marketed as "Command-Aire Heavy Duty" counter and pedestal circulators. A deluxe ceiling suspended circulator was marketed also, having a three-winged, cast-aluminum blade, and a deluxe, chrome-finished motor housing, suspension pole and ceiling canopy. There is no indication any Air-Castle products, other than the ceiling circulators, had three-winged blades. Any pedestal or counter fans having them should be viewed with suspicion. The line-up as described was manufactured in the same style until after 1941, production ceasing from 1942 to 1945 due to World War Two.
With the work force and materials returning in abundance after the war, Air-Castle, Incorporated, sported an all new, very modern looking design. While the earlier to mid-1946 Air-Castle larger counter and pedestal retained most of their pre-war style, using up leftover parts stock, Air-Castle began marketing a twelve inch desk fan, having a chrome trim edged, flat circular base, with a motor support welded to the supporting, circular-shaped base made of steel plate coated with a black wrinkle finished enamel, and having a chrome plated sheet metal disk set in the middle of the ring shaped base. The two-winged cast aluminum blade followed the original design style, reduced in size, and was dynamically balanced. The cage was redesigned, being made from chrome plated wire, without the expanded steel mesh seen on previous production models, the earlier wire and mesh caged examples still being available, but only on the larger sized circulators, sixteen inches and twenty inches.. A chrome plated cage badge with red enamel, as in past years was used. General Electric motors were phased out as pre-existing stock was used up, and was eventually replaced with single-speed 110 volt, 1600 rpm motors made by Universal Electric Company of Owosso, Michigan, until mid to late 1946, where 1/25th hp motors made by Lectro-Max of Geneva, Illinois, another motor manufacturing contractor for Air-Castle were used in sixteen and twenty inch circulators. All versions this model year had a die-cast, streamlined bullet rear motor cover, being either polished or chrome-plated. Near the end of 1946, a new pedestal design having an improved, flat metal ring shape made from plate steel was introduced, the outer rim having chrome trim similar to the desk fan, and rubber support pucks on the underside of the base. The finish has been observed as earlier to late mid production black or a later 1946 production shimmery medium light apple green metallic finish enamel.
1947 - The last and most prolific year for Air Castle production: Motors are still Universal Electric and Lectro-Max, black wrinkle enamel painted fans are phased out early in the model year, the green metallic finish is now standard production on the desk, counter and pedestal circulator line-up. The rear motor cover by mid-1947 is no longer polished or chromed, but painted the same as the rest of the fan. The center of the base chrome "disk" is no longer present on the desk models, and the trademark cast aluminum two-winged blade has been dispensed with, having been replaced by a stamped and riveted to the hub four-winged aluminum blade.
There are several scarce anomalies from Air-Castle sold in 1947, listed here in chronological order: Mandel Brothers, a department store and mail order chain from Chicago sold rebadged Air-Castle desk fans labeled as "Country-Aire" circulator and ventilator fans, having cast-aluminum two winged blades. Another Air-Castle production, "All American Electrical Manufacturing Co., makes it's appearance, advertising for assemblers, 4th Floor, 2645 South Wabash, Chicago, Illinois. I believe this is proof Air-Castle hired sub-contractors to manufacture motors, blades, cages, badges and assembled them in house on delivery.
Fans are marketed as "Pure-Breez", made by All American Electrical Mfg. Co., 1114, South Michigan, Chicago, Illinois, in 12, 16 and 20-inch sizes. An eight-inch fan was marketed under the Pure-Breez label, a "microphone-style" manufactured for what was formerly Air-Castle by Alliance Electric, makers of various-branded "microphone fans" since 1935.
"All American" makes it's appearance, after a transition from the Pure-Breez name. Period newspapers show "Help Wanted" advertising for "All American" assemblers, at the 4th Floor of 2645 South Wabash, Chicago, Illinois. I believe this is proof Air-Castle hired sub-contractors to manufacture motors, blades, cages, badges and assembled them in house on delivery of parts, as the business address for All-American Electrical Mfg. Co., 1114 South Michigan, Chicago, Illinois remains the same. All American is making a brand new designed three-speed oscillating desk fan, which makes use of polished castings for the motor housing and oscillator gear box, having a polished three-winged aluminum blade riveted the it's hub, and . The cage is still like the Air-Castle wire cage, however, an example with a cage badge is yet to be seen. The motor housing has a large motor data tag with the company name and address. The cast-iron base is finished in black wrinkle enamel. There is also a 20 inch pedestal, and a ceiling suspended fan.
On June 22, 1947, advertising for investors, salesmen and dealers began for another variant in the Air-Castle evolution, cage-badged "Electro-King", Electro-King Manufacturing, 122 North Halsted, Chicago, Illinois, structurally identical with the previous "All American" incarnation, the obvious exception being the cage badge.
As of July 22,1948, the "Fleetwind" brand of fans was the last gasp of what was Air-Castle. The oscillating motor, blade and cage are identical to the "Electro-King", but what is unique to the Fleetwind fans are the cage badge, which are made from a large, stylish stamping that reads Fleetwind, and the counter and pedestal bases, made of chromed tubing coiled into a circle shaped support base. It may be possible the construction was designed to use up the last remaining parts in Air-Castles inventory.
1948 - September 14, 1948, Air Castle, being bankrupt, is liquidated and out of business.